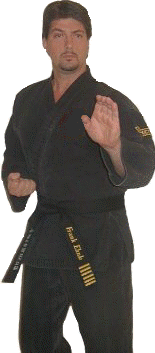 Grandmaster Frank S. Ehnle
Training Since 1972
All ranks and achievements earned separately
with proper time in grade:

* 10th Dan Grandmaster and Founder of "Wang Yong Mu Do"
* 8th Dan Grandmaster in Hapkido
* 6th Dan Black Belt in Taekwondo
* 4th Dan Black Sash in Jeet Kune Do
* Heuk Choo Kwan Black Eagle, SUGI Hapkido Certified
* Certified Jeet Kune Do 4th Dan, Master level Instructor JKD Assoc.
* Professional martial arts educator, no day care, no politics
* Recognized world-wide for martial arts integrity and ethics
* Specializing in real world effectiveness proven by resistance
* Developed Hapkido Pressure Point Program 2002
* Developed the Royal Dragon Martial Art system (Wang Yong Mu Do)
* Began training 1972 Isshinryu Karate Sensei Louis Coletti
* Founder and President American Hapkido Federation
* Developed martial arts info website, www.TipsOnSchools.com
* Recognized Grandmaster of "Wang Yong Mu Do" Martial Art

WANG YONG MU DO - The way of the Fighting Royal Dragon
---
SEMINARS AND TRAINING EVENTS:
Grandmaster Frank Ehnle has spent a lifetime in the martial arts and has owned a school consecutively since 1996. No day care, no politics, his success was built solely on martial arts education. GM Ehnle is also available for personal V.I.P. self-defense training for you, your family, your organization, corporation or employees. He gives real world seminars on self-defense for civilians, law enforcement, military, security personnel, Gov't employees, etc. Locally in Tampa he was hired by a law firm to teach their paralegals and employees self-defense training. Training included personal safety while leaving their downtown building and parking garage at night in a potentially unsafe city environment. as well as safety during a threat or breach of their law office. In Los Angeles he taught professionals in the entertainment industry important self-defense and personal protection techniques for the environment at their events. He has traveled the country giving seminars on high-level self-defense and hand to hand combat training.
Grandmaster
Frank Ehnle
7th Dan

Demonstrating how to escape from a violent knife hostage threat (with a full strength attack) at a Tampa Law Firm Self-defense Seminar.



---


Self-Defense Seminar topics can include;

* How to disable and escape from a larger, stronger, aggressive attacker
* How to use easy to carry personal weapons for expert level self-defense without a black belt
* Risk assessment and safety protocols for your home or work environment
* Improving high level hand to hand skills for law enforcement, military or security personnel
* Debunking outdated self-defense methods and proving technique effectiveness with resistance
* Specialty topics such as weapon disarms, pressure points, open hand and weapons training.

Grandmaster Ehnle is honored to have had a variety of law enforcement personnel, military, and even a former Navy Seal training in his school as students. He complimented GM Ehnle and the art of Hapkido's incredible control over another human being. GM Ehnle is also the Founder and President of the American Hapkido Federation and offers Charter school support, instructor training, and administrative and martial art guidance for all AHF schools.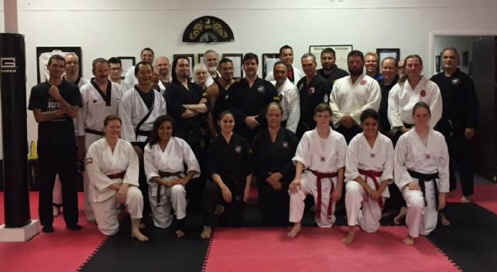 To schedule a consultation, self-defense seminar, or V.I.P. one on one training, or information about the American Hapkido Federation please call 813-654-5425 or email USHapkido@Verizon.net
---
QUOTES:

"I began my training in 1972, there is not undeniable honor and respect among all black belts the way it once was. A few still hold onto those values, but there are others who are not true black belts in regard to respect and honor." - GM F.S.Ehnle

"When someone threatens you, they are demonstrating a weakness of character. It is ultimately that weakness you will prey upon on your road to victory." - GM F.S.Ehnle

"To be a black belt is to never do less than you are capable, and to never do more than you are capable. It is to know exactly what you are capable of and to use that to its highest potential." - Grandmaster F.Ehnle, 7th Degree Black Belt

SEE MORE OF MASTER EHNLE'S QUOTES

---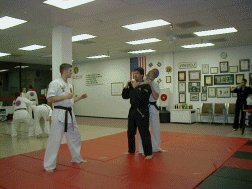 Master Ehnle Demonstrates a defense against two attackers.
---
STAFF MEMBERS
Royal Dragon Martial Arts

There are no defined standards within the Martial Arts industry for instructors. Unfortunately there are schools and instructors who can just fraudulent instructor credentials. It is up to each individual school to determine the qualifications of an instructor level position. Our standards at Royal Dragon are extremely high out of respect for the great responsibility of handing down these ancient Martial Arts skills to the next generation. Our requirements include required reading & study, physical skill, proven and demonstrated knowledge of the curriculum qualifications.

Our entire staff consists of highly skilled Martial Artists who earned their instructor positions from their instructor. There are no corporate "purchased instructor credentials" in our school. Each instructor earned their position the traditional way. Each instructor is an adult with at least a 3rd Degree Black Belt.

We have no teens or children teaching class. Our Dan ranks truly represent years between Black Belt ranks and not hollow purchased rank with the minimum time in grade. Only the finest Martial Art Student who demonstrates excellence in physical, mental and social skills can earn an instructor position at Royal Dragon Martial Arts. Come witness a class and meet our traditional and highly skilled staff, you will see the difference.
Current Royal Dragon Instructors: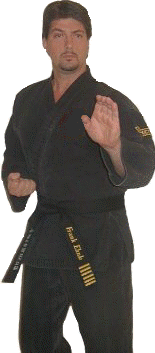 Grandmaster F. Ehnle
7th Dan
Senior Instructor/Founder - Wang Yong Mu Do
Royal Dragon Martial Arts Fighting System
Began training 1972
---

Master Annette
6th Dan
Master instructor
27 Years Martial Arts training


Angel Rivera
4th Dan Hapkido
Hapkido Instructor


Brian
Cho Chia Yuen
3rd Dan
Taekwondo
Fitness
Instructor


Tony Lee
3rd Dan
Hapkido
Instructor


Anthony Costa
3rd Dan
Taekwondo
Instructor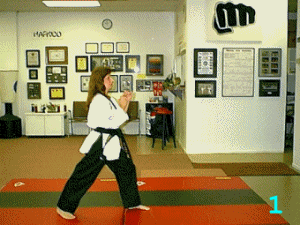 Master Annette Ehnle, 6th dan with 27 years experience demonstrates a front Kick.
---