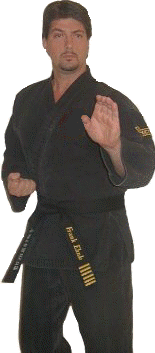 Grandmaster Frank S. Ehnle
* 7th Dan Black Belt in Hapkido
* 6th Dan Black Belt in Taekwondo
* 4th Dan Black Sash in Jeet Kune Do
* Black Eagle Hapkido Certified
* Certified Master Jeet Kune Do Instructor JKD Assoc.
* Awarded "Instructor of the Year" March 2000.
* Inducted Instructor of the year 9/00
* Developed HKD Pressure Point Program 3/20/02
* Developed Royal Dragon Martial Art system
* Began training 1972 Isshinryu Karate Sensei Louis Coletti
* President American Hapkido Federation
* AHF Inducted to Hall of Fame "Best New Organization" 07.

---
QUOTES:

"I began my training in 1972. There is not undeniable honor and respect among all black belts the way it once was. A few still hold onto those values, but there are others who are not true black belts in regards to respect and honor." - F.S.Ehnle

"When someone threatens you, they are demonstrating a weakness of character. It is ultimately that weakness you will prey upon on your road to victory." - F.S.Ehnle

"To be a black belt is, to never do less than you are capable, and to never do more than you are capable. It is to know exactly what you are capable of and to use that to its highest potential." - F.S.Ehnle

SEE MORE OF MASTER EHNLE'S QUOTES

---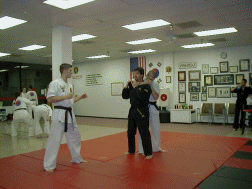 Master Ehnle Demonstrates a defense against two attackers.
---
STAFF MEMBERS
Royal Dragon Martial Arts

There are no defined standards within the Martial Arts industry for instructors. Unfortunately there are instructors who can just purchase fraudulent instructor credentials. It is up to each individual school to determine the qualifications of an instructor level position. Our standards at Royal Dragon are extremely high out of respect for the great responsibility of teaching these ancient Martial Arts skills to the next generation.

Our entire staff consists of highly skilled Martial Artists who earned their instructor positions from their instructor. There are no corporate "purchased instructor credentials" in our school. Each instructor earned their position the traditional way. Each instructor is an adult with at least a 4th Degree Black Belt.

We have no teens or children teaching class. Our Dan ranks truly represent years between Black Belt ranks and not hollow purchased rank with the minimum time in grade. Only the finest Martial Art Student who demonstrates excellence in physical, mental and social skills can earn an instructor position at Royal Dragon Martial Arts. Come witness a class and meet our traditional and highly skilled staff, you will see the difference.
Current Royal Dragon Instructors:
---

Master Ehnle
6th Dan Taekwondo
6th Dan Hapkido
SENIOR MASTER INSTRUCTOR
Pressure Point Instructor
Black Belt Instructor
Hapkido Instructor
Jeet Kune Do Instructor
Began training 1972


Master F.J.
6th Dan Taekwondo
3rd Dan Hapkido
Taekwondo Program Instructor
MASTER INSTRUCTOR LEVEL
Weapons Program Instructor
26 Years Martial Arts training

---

Master Annette
6th Dan Taekwondo
2nd Dan Hapkido
1st Dan Jeet Kune Do
Childrens program Master instructor
25 Years Martial Arts training


Master Nicole
5th Dan Taekwondo
2nd Dan Hapkido
Taekwondo Instructor
18 years Martial Arts training

Angel Rivera
3rd Dan Hapkido
Leadership Team Member
Hapkido Instructor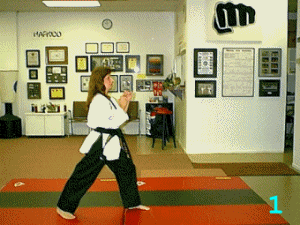 Instructor Annette Ehnle Demonstrates a Front Kick.
---